ELECTRONIC COMPASS, WITH BUILT-IN GNSS/GPS RECEIVER. LT-1000 NRU.


The
LT-1000 Navigation Reference Unit (NRU)
is a maritime navigation product from Lars Thrane A/S. The LT-1000 NRU is designed for the leisure as well as the professional maritime markets and meets all standards and certification requirements needed for worldwide maritime navigation equipment.
Performance
The LT-1000 NRU is a small, compact, and very advanced unit with 12 precision sensors (magnetometers, gyros, accelerometers, GNSS, barometer, and thermometer). With the use of sensor-fusion and Kalman filtering, the LT-1000 NRU outputs: true heading, magnetic heading, deviation, variation, roll, pitch, position, satellite information, ground speed, course over ground, time and date, air pressure, and temperature in real-time, with high precision and resolution. The
LT-1000 NRU includes advanced technologies such as:
• Kalman filtering & sensor fusion
• Calculation of magnetic variation based on the World Magnetic Model (WMM)
• Compensation for soft and hard iron (deviation)
• Built-in magnetometer calibration algorithm
• Receive and track multiple satellite systems (GPS, SBAS, GLONASS, and BeiDou)
• Support for Satellite-Based Augmentation System (SBAS):EGNOS, WAAS and MSAS
The LT-1000 NRU makes use of the latest technology within GNSS receivers, with market leading acquisition and tracking performance. It is designed and built for the demanding and rough environment at sea and with an operational temperature range from -40⁰C and +55⁰C (-40˚F to +131˚F).
Installation & Navigation
The LT-1000 Navigation Reference Unit is easy to mount on a 1" pole (optional installation: roof mount) with a single cable supporting NMEA 0183, NMEA 2000, and power. Two deviation calibration options are available:
• Standard deviation calibration (figure 8-pattern). Default configuration
• Adaptive deviation calibration.
The adaptive deviation calibration algorithm is an alternative to the standard deviation calibration algorithm (figure 8-pattern) and should be used by vessels that cannot perform the standard deviation calibration figure 8-pattern. The new adaptive deviation calibration algorithm will improve performance over time as the vessel navigates on different courses. The adaptive deviation calibration algorithm must be activated using the LT-Service Tool.
Use the LT-Service Tool for optional configuration and offset adjustment of the LT-1000 NRU. The LT-Service Tool is a PC program, which may run on any Windows PC.
More than 40 years of experience have been put into the design and construction of the advanced LT-1000 NRU, with an exceptional performance and specification level.
Table of NMEA 0183 and NMEA2000 Telegrams.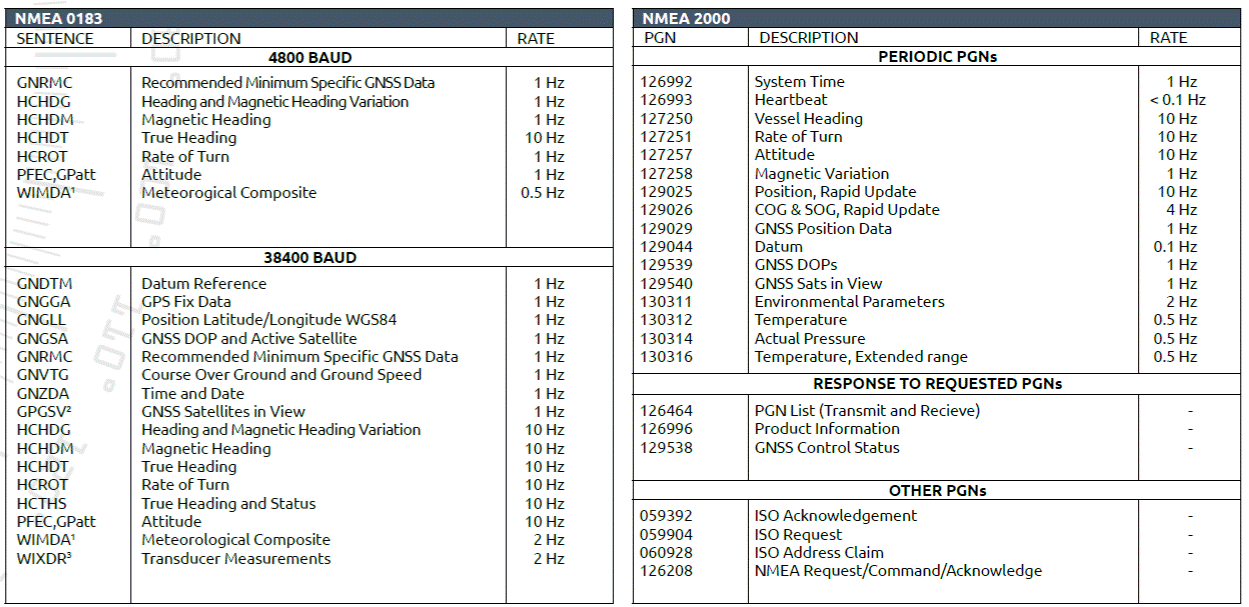 LT-1000 Nav Reference Unit
$1,780.44

Ex Tax: $1,548.21
Related Products
Tags: LT-1000 NRU